7 INGREDIENT PEANUT BUTTER JELLY CUPS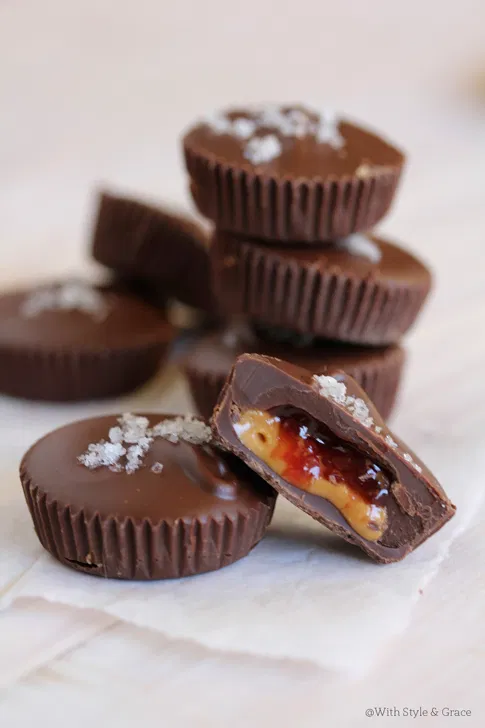 Ingredients
150g Natava Superfoods organic cacao butter
1/3 cup Kokonati Organic coconut oil
1/3 cup Ceres Organic maple syrup
3/4 cup Natava Organic Cacao powder
2 tbsp Natava Organic Chia Seeds
1 cups frozen berries, defrosted
Chantal Organics Peanut Butter or any nut butter of your choice

Method

1. Place cacao butter and coconut oil in a double boiler and slowly melt together until butter and oil go clear. Take off the heat and whisk in the maple syrup, and cacao powder.

2. Spoon approx. 1 tsp of chocolate into a silicone mini muffin tray or use mini cupcake cases. Pop in the freezer for 10mins to set.

3. While the bases are setting make the chia jelly. In a medium bowl add in the defrosted berries and chia seeds.
Use a fork to mash the berries and chia seeds together. Put aside to set.
4. Spoon a small amount of jelly and peanut butter into the middle of the cases, use spoon to flatten out (without touching the sides). Evenly spoon the rest of the chocolate on top, until the filling is covered.
Note: If the chocolate has set, pop it back on the double boiler to melt again.
Pop moulds back in the freezer for 30mins to fully set. Enjoy! Store in the fridge.
Posted: Wednesday 4 November 2020