PEANUT BUTTER CHOCOLATE BROWNIES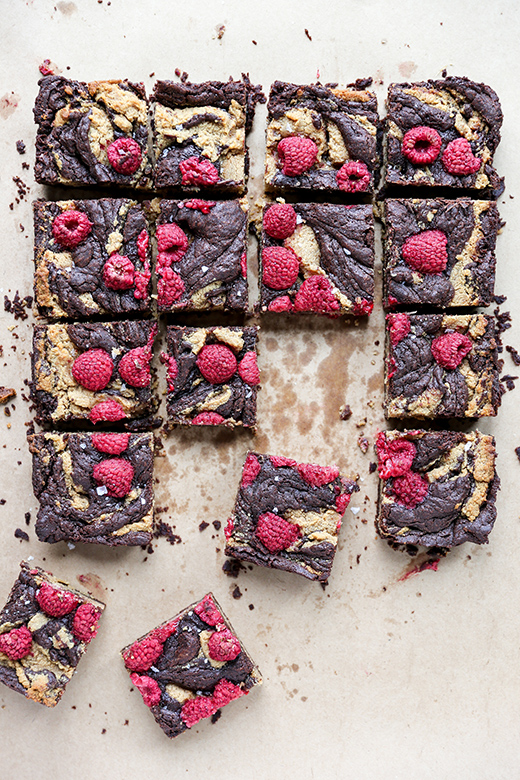 RAW PEA NUT BUTTER CHOCOLATE BROWNIES
Ingredients:
For the Brownie
1 cup Organic Oats
1 cup dates (down to earth dates)
3/4 cup cashews (we love down to earth cashews)
1/2 cup cocoa powder
1/3 cup melted Kokonati Organics Coconut Oil
2 tbsp water pinch of Organic Sea Salt Fine
For the Caramel
1.5 cup Chantal Organics peanut butter
2 tbsp cocoa powder
2/3 cup Chantal Organics Coconut Cream
1 cup Kokonati Organic Coconut Oil, melted and cooled
2/3 cup Organic Apple Syrup
2 tsp pure vanilla extract a pinch of Sea Salt


Directions:
​1. To make the brownie base, add all dry ingredients elements to a food processor and blitz until they resemble coarse bread crumbs. Add the coconut oil and water and pulse until the mixture starts to come together.
2. Line a slice tray with baking paper and press the brownie mixture in the tin evenly. Set aside.
3. In a food processor or blender, add all the caramel ingredients and blend until silky. If the mixture starts to split because of the oil, add more coconut cream, a tablespoon at a time and scrape down the sides of the food processor before mixing. Repeat until you obtain a smooth consistency.
4. Pour the caramel mixture over the brownie base and even out using a spatula. Finish with a sprinkle of raspberries and pop in the freezer to set for at least 45 minutes.
When ready to serve, remove from the freezer and allow the slice to thaw for a few minutes before slicing. Enjoy!
Posted: Thursday 17 October 2019