NEW IN STORE - NATURE BODY TUMERIC TOOTHPASTE & REMINERALISING TOOTHPOWDER
Contact us on 0800 787 999 or 06 868 5718
Email downtoearth123@xtra.co.nz 
Contactless pickup at either store or delivery available.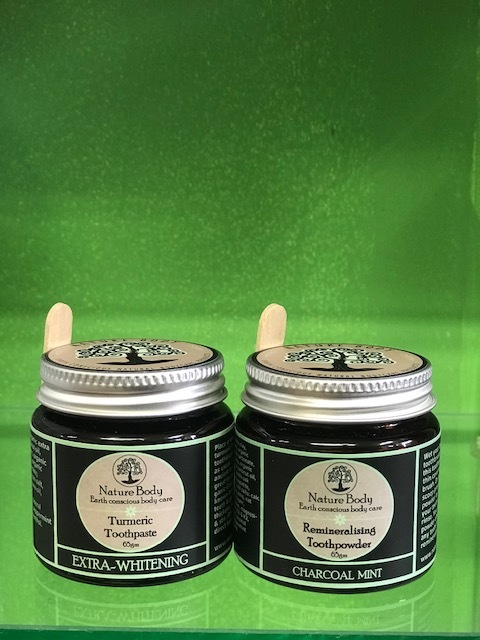 Nature Body Tumeric toothpaste is packed full of natural goodies for healthy teeth and gums.
It can help to remineralise teeth, keeps gums healthy and whitens teeth at the same time. Free from glycerin (which can stop your teeth from remineralising).

Ingredient Benefit:
Contrary to it's bright yellow colour, organic turmeric is an ancient tooth-whitener and is incredibly good for gums. It is higly recommended for it's anti-inflammatory properties. Studies have evaluated the effectiveness of turmeric in controlling gingival inflammation & found it beneficial for the use of effectively treating gingivitis and reducing inflammation.

To use, put a little onto your toothbrush and your brush your teeth as usual.

Remineralising Toothpowder

A super-charged remineralising toothpowder, with three flavour options, for natural tooth health & remineralisation!
Full of natural clay, herbs, cell salts, vitamins and minerals, plus ozonated coconut oil. Free from glycerin, (which can stop teeth remineralising.)
Ingredient Benefit:
Bentonite clay binds to and draws out heavy metals and toxins (a huge plus for the mouth!), but it is alkaline and full of minerals. Bentonie clay is also known to have an abundance of minerals, including calcium, magnesium, silica, sodium, copper, iron and potassium.
Posted: Sunday 13 October 2019